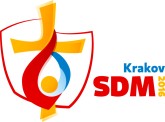 Sv─Ťtov├ę setk├ín├ş ml├íde┼że s pape┼żem
┼Żiv├Ż p┼Öenos, live
(v p┼Ö├şpad─Ť ┼że se ┼żiv├Ż p┼Öenos kon├í...)
- Tv Noe live
- World Youth Day Live Video Stream Live video stream of the center for English-speaking pilgrims.
- Centro Televisivo Vaticano live
- ─îT 2 - v ned─Ťli 31.7. v 10.00 - P┼Ö├şm├Ż p┼Öenos m┼íe svat├ę s pape┼żem Franti┼íkem, kterou v Krakov─Ť vyvrchol├ş setk├ín├ş mlad├Żch k┼Öes┼ąan┼» z cel├ęho sv─Ťta.

Aktuality
---
Motto
Ni─Ź├şm se neznepokojuj,
ni─Ź├şm se nermu┼ą,
v┼íechno pom├şj├ş,
B┼»h se ale nem─Ťn├ş.
Máš-li v srdci Boha,
nic ti nechyb├ş,
jeho l├íska sta─Ź├ş.
(Terezie z Avily)
Taiz├ę k├ínon
"Ni─Ź├şm se neznepokojuj ... "
"Nada te turbe"
Z
v├şry
─Źerpat
s├şlu k ┼żivotu.
Vira.cz
Doporu─Źujeme:
N├íhodn├Ż tip
Kr├ísn├Ż ┼żebr├ík
P┼Öi setk├ín├ş dvou lid├ş m┼»┼że n─Ťkdy vysko─Źit jiskra, jako bychom o sebe k┼Ö├şsli dv─Ťma...